Lost orange cat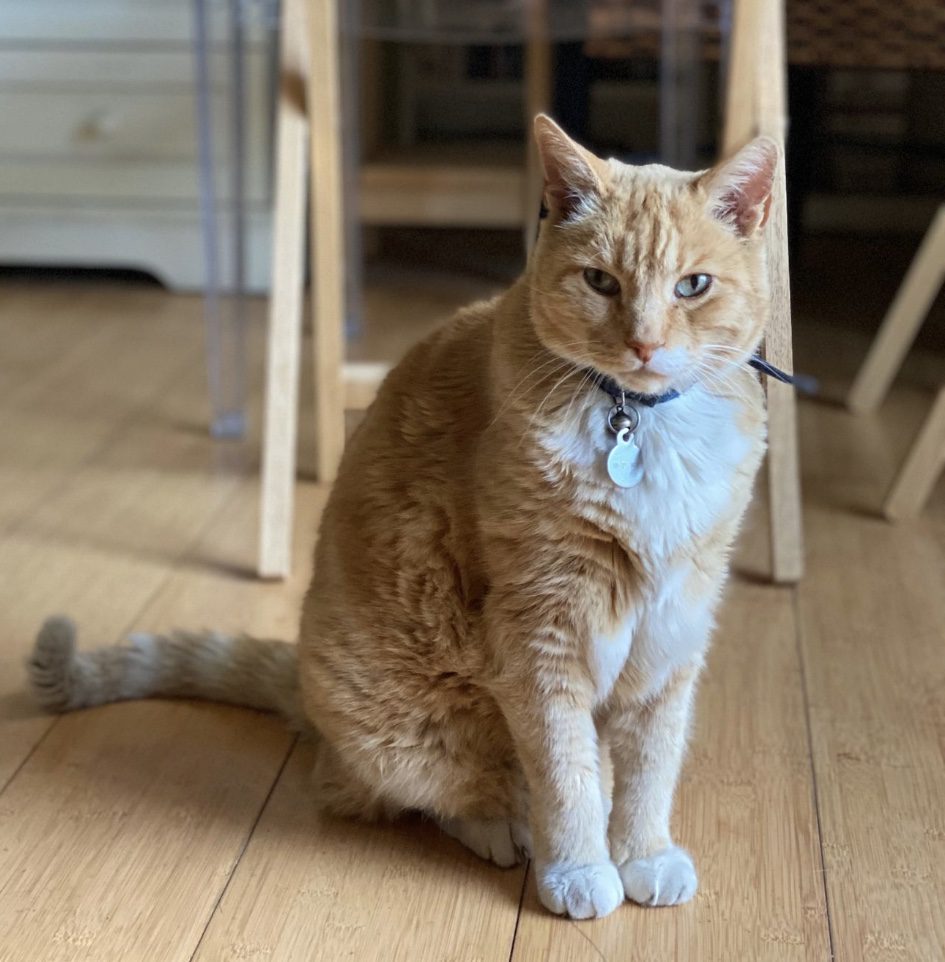 I promised my mother while she was dying that I would take care of Tigger, and now he is missing. I am heartbroken and hoping for a miracle.
Tigger is new to the midtown Ventura neighborhood and may be freaked out and hiding in a shed, garage or other enclosed space.
He is wearing a black collar with rhinestones, a small bell and a metal ID tag engraved with "TIGGER" on one side. The other side is engraved with the landline phone number of his former owner, who died recently. (We have access to voicemails left at that number but there may be a delay.)
Tigger was an indoor/outdoor cat at his previous home, where he enjoyed days spent sleeping in the sun in the garden.
We were trying to get him to be more of an indoor cat with supervised outdoor time, but he slipped out of the gate during a moment of distraction.
Tigger has two kinds of meows: One where he looks you straight in the eye and opens his mouth but nothing comes out, and another where he walks around with a very loud, throaty and insistent yowl.
When you pet him, you will feel a very small bump/growth on his shoulder blade.
PLEASE, if you have any information about his whereabouts, let us know.
Thank you.
Listing ID

:

31998

Your Cat's Name

:

Tigger

Sex

:

Male

Age

:

Senior

Height

:

14 inches

Weight

:

12 pounds

Breed

:

Domestic mediumhair

Color(s)

:

Orange and white

Eye Color

:

Green

Describe Collar & Tags if any

:

Black collar with rhinestones, a small bell and a metal tag engraved with "TIGGER"

Other Distinguishing Features or Notes

: The flipside of Tigger's metal tag is engraved with the landline phone number of his former owner, who died recently. The number is still in operation, but there may be a delay in our ability to retrieve it.
Tigger has two kinds of meows. For the first, he looks at you and opens his mouth but nothing much comes out. For the second, he walks around giving out a very loud, throaty and insistent yowl.
Tigger was an in indoor/cat with access to a cat door at his previous home, where he usually spent afternoons sleeping in the sun in the garden. (He also was very good at hiding in bushes.) We were trying to make him more of an indoor cat at his new home in midtown Ventura.
He has a very small bump/growth on his shoulder blade. It isn't visible unless you part his fur.

Where Was Cat Lost (nearest intersection)

:

San Clemente Street at Channel Drive

City Where Your Cat Was Lost

:

Ventura

When Was Cat Lost (the date your cat went missing)

:

Sunday, Nov. 29

Your Name

:

Lisa McKinnon

Daytime Phone

:

805-746-3350

Evening Phone

:

805-746-3350

Address

:

567 San Clemente Street, Ventura, CA, USA

Email Address

:

lvictrola@aol.com